Certificates of Deposit (CD)
These savings products are a good way to save money. The longer the term, the higher the rate and the more dividends you earn. Terms for 3, 6, 12, 14, 24, and 36 months are available at prevailing posted rates. Just don't invest money that you may need access to right away, early withdrawal from this type of savings accounts is subject to a penalty on your dividend rate.
Special certificate rates apply to new funds only
Minimum opening deposit of $1,000 and unlimited deposits
Terms from 3 months to 4 years
No monthly fee
One-time rate increase available
---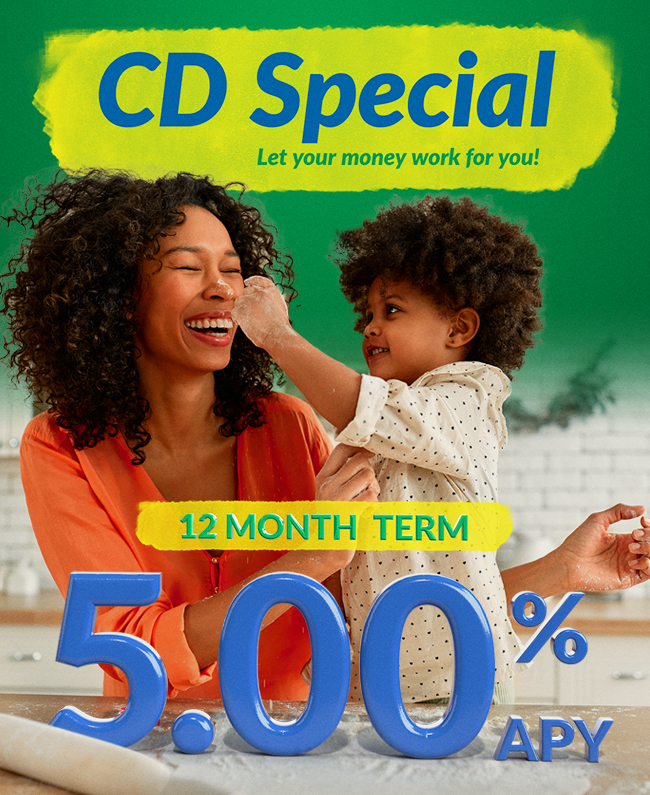 CD Special
12 month term
5.00% APY*
---
*APY = Annual Percentage Yield. Dividends are compounded and credited monthly using the average daily balance method. A $1,000 minimum deposit is required to open the 12-month certificate account. At maturity, the certificate will roll into a 12-month certificate at the current rate. A penalty for early withdrawal applies to all certificate terms. Other conditions may apply. Rate and offers are subject to change without notice. Membership is required to open a certificate and is subject to qualifications and a minimum $5 share deposit. Federally insured by NCUA.